Foot Reflexology Sylvan Shores FL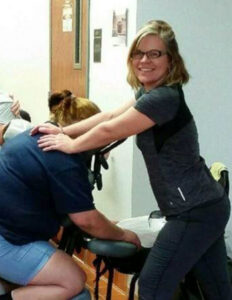 Deidre Tattersall is the owner and operator of Encompass Massage of Sebring, located in Sebring, Florida. This is a highly regarded Massage Therapy company in Highlands County.
Our mission at Encompass Massage of Sebring is to always provide clients with customized relaxation and pain management massage. We specialize in Neuromuscular and Cranial Sacral therapies. Our goal is to relieve stress, tension, pain, and discomfort through therapeutic massage.
When it comes to providing expert massage therapy, nothing takes the place of experience. Deidre began her career working in the physical therapy industry, then went to school for massage therapy and graduated in 2011. She started Encompass Massage of Sebring in 2016.
People often choose Diedre and Encompass Massage of Sebring for her extensive knowledge and education as well as care for her clients. She pays attention to every detail.
Foot Reflexology Sylvan Shores FL
NeuroMuscular Therapy – Neuromuscular massage therapy is a specialized form of manual massage in which digital pressure and friction are used to release areas of strain in a muscle. Strain areas are called tender or trigger points, and they tend to be the cause of ongoing muscular pain symptoms.
Deep Tissue Massage – Deep tissue massage is best for giving attention to certain painful, stiff "trouble spots" in your body. The massage therapist uses slow, deliberate strokes that focus pressure on layers of muscles, tendons, or other tissues deep under your skin.
Cranial Sacral Therapy – CST is thought to relieve compression in the head, neck, and back. This can soothe pain and release both emotional and physical stress and tension. It's also thought to help restore cranial mobility and ease or release restrictions of the head, neck, and nerves.
Swedish Relaxation Massage – In the full body Swedish massage, your therapist will usually start by massaging your back and neck, then the legs, arms, hands and sometimes the feet. This massage sometimes includes a relaxing head massage (also known as a scalp massage, Indian head massage or Champissage).
Reflexology – Reflexology is a type of massage that involves applying different amounts of pressure to the feet, hands, and ears. It's based on a theory that these body parts are connected to certain organs and body systems. People who practice this technique are called reflexologists.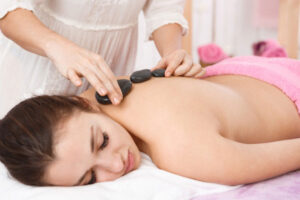 Hot Stone Massage – A hot stone massage is a type of massage therapy. It's used to help you relax and ease tense muscles and damaged soft tissues throughout your body. During a hot stone massage, smooth, flat, heated stones are placed on specific parts of your body.
Take time for yourself! Massage is always a great choice but it helps all aspects of your life. No matter if it's spending time in nature, with family, or just time alone. You and your loved ones will benefit.
Don't have time for a 60 or even 30 minute massage? We added chair massage to the menu of services. A 15 or 20 minute chair massage might be just what you need! Schedule in your stress relief!
Call Today!
Foot Reflexology Sylvan Shores FL